Direct-Response Copywriting
Copywriting and the related Content Marketing Strategy is the act of writing text for the purpose of advertising or other forms of marketing. The product, called copy, is written content that aims to increase brand awareness and ultimately persuade a person or group to take a particular action. Contact me today if you'd like to talk further.
The AWAI Verified™ seal indicates that a copywriter has …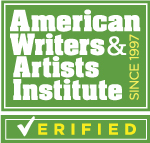 Studied AWAI's world-class The Accelerated Program for Six-Figure Copywriting, which covers the fundamentals of persuasive direct-response copy.
Passed AWAI's robust test and demonstrated an understanding of copywriting principles and best practices
Copywriters who receive the AWAI Verified™ designation have clearly grasped the concepts of writing sales-generating copy, such as …
The proven principles of effective headlines, leads, full sales letters, emails and more.
How to instantly grab attention, connect with prospects, and drive ACTION — whether it's to order a product, request more information, or donate to a charity.
How masterful copywriting can make a massive difference in marketing success.